It's only been a month and a half since we've been in the new house and I was very careful to organize things as I went along, putting things where I wanted them to go as I brought the boxes of stuff over from my parent's house. Fortunately my parents have allowed me to keep most of my stuff at the old house and move things over as I need them, want them or have a place to put them. I know that quite a few of the things I have at the old house won't ever make it to the new house and will end up donated, and that's just fine with me. It's important that I not be overwhelmed with "stuff".
I still have a far way to go. The dresser in the kid's room is not being utilized to its full potential & takes up too much space. They also don't have a bedside table yet so the lamp is on an overturned storage basket (not only unsafe, but also I
need
that basket back it place to hold toys!). The bathroom cabinets are neat & tidy, thanks to some plastic drawer organizers I bought at Target. The closet also looks pretty decent, though Danny needs to figure out a better arrangement for his work clothes than just stacking them on the upper shelves. The dresser top is a disaster. This weekend, I need to sort through what all is on there and find a home for the lost socks, jewelry, papers and junk that have been piling up.
The sewing room is a complete and total mess. Other than me going to Ikea and buying some storage boxes, putting away some scrapbook paper in the closet and color coordinating my sewing thread on a rack, nothing has been done in here and it's very frustrating. I'm trying to get some things up on Etsy in the next few weeks and cutting out & sewing in here has been more of an annoyance than anything else. I don't have an ironing board or spare table so the floor is subbing in and that just doesn't work at all (and my back is aching from it!). I promise that by the end of the month this area will be on its way to organization and I'll have some Etsy items in my store again to show for it!
Let's start off the year in an organized manner...Check out the FIVE FOR FRIDAY this week.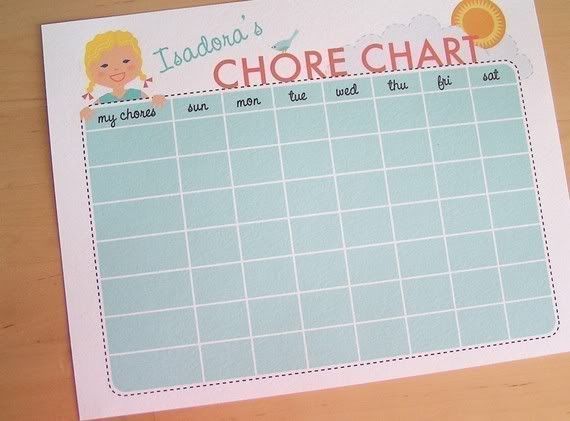 olliegraphic
I am
so
buying one of each of these chore charts for The Boy and Girl! You can personalize & customize them with the look of the child you want and they are so cute to display the weekly chores. Print them up as you need them. You just have to look around the rest of the shop too for the personalized & customized plates and Valentine's cards.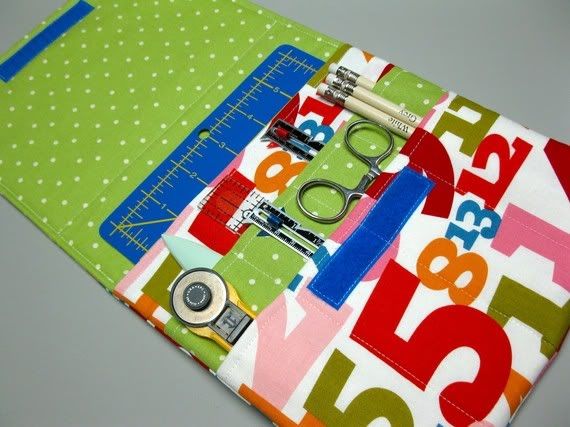 pearl25
Even if you aren't a seasoned seamstress, everyone needs the proper tools to sew on a loose button, patch a hole or snip stray threads. And especially if you aren't a regular with a needle and thread, you probably don't have these things easily accessable. For me, I keep most of my regular tools in plain view on my sewing table, but for those who only occassionally pull out their sewing projects, this little organizer is perfect. Slide in your own tools and you can keep this set in a handy place (or even in an office desk drawer or in the car glove box for real wardrobe emergencies).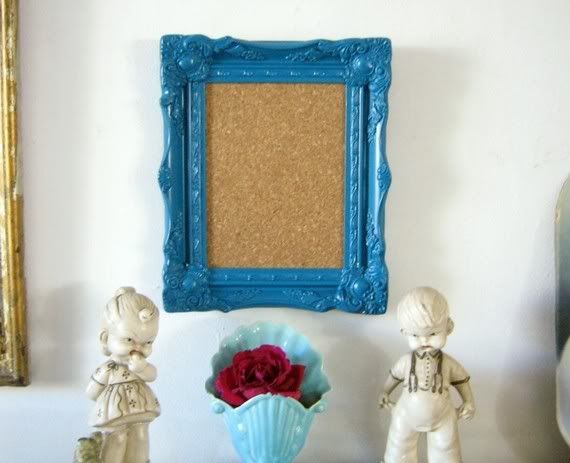 shabbyvintagemom
If ever my husband will let me nail a hole in the wall, I'd love to put up one of these whimsical cork boards. Bright and fun and just on the smallish size to hold important notes, recent photos, the week's dinner menu, whatever.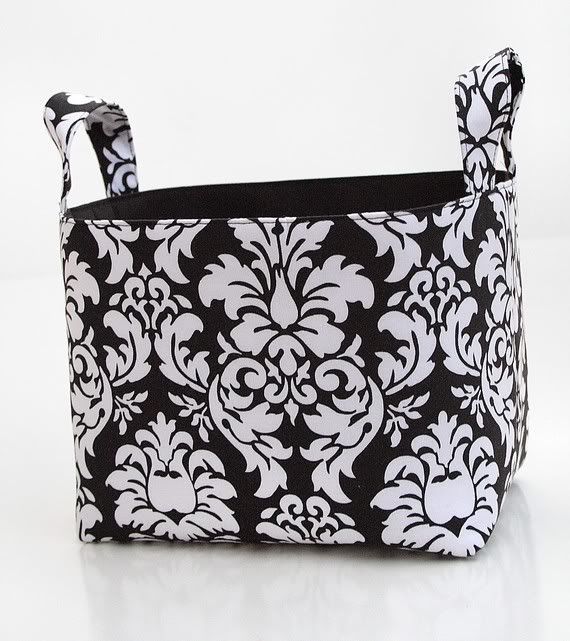 ladesigns2
One of my most favorite Etsy/Ebay gals, LeeAnne makes the yummiest baskets around! Not just for Halloween or Easter, pick up a few baskets to hold your towels in the bathroom, your knitting project in the bedroom, remote controls in the living room...you get the idea. These are just so beautiful & well made!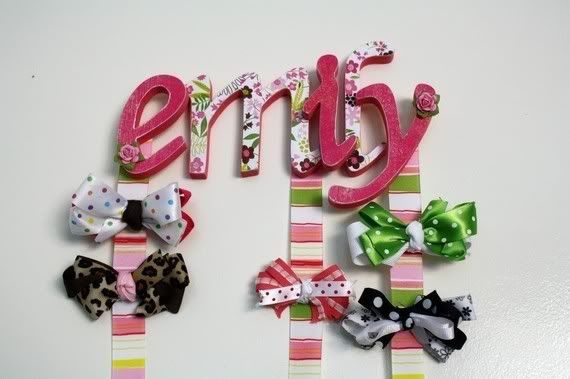 lolamonkey
I admit, since we have a little girl in the house now, I've gotten a little wild with the hair accessories. I've kept them in a rather smallish box for a while but I think it's time to admit that the box isn't cutting it. I have been sorting through the bows each Sunday and taking out the ones that she'll wear for the week and separating them into another box. It would just take too long on school mornings to sift through everything and find what we need for each day. Isn't this a sweet and expressive way to organize the bows? Little girls love personalization (judging by how many of the appliqued name shirts I've sold!). And it's wall art, too!