I bought a cake stand at a local antiques shop before the wedding with the intention of placing it somewhere on one of the tables as a centerpiece. However, the cake stand ended up being the largest piece I had and it would have just looked out of place on the tables so I didn't end up using it at the wedding at all. If I'd known my wedding cake was going to be so small, I would have brought it to use for that but in any case...Sorry, still have a hard time letting go of the
Wedding Cake Incident
Anyhow, even though I didn't get to use the cake stand for its intended purpose, it's still getting a workout in its new place of honor on my buffet. It's a beautiful creamy white Fenton glass dessert stand with a scalloped edge and hobnails on the base. I paid half of what I've seen them priced at on Ebay and it still certainly was a splurge for me.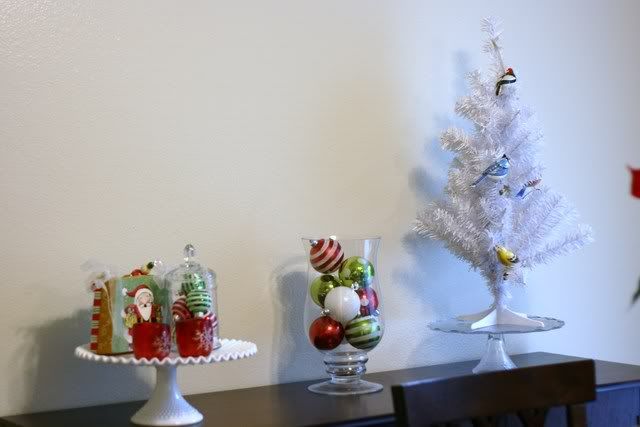 The cake stand in action during Christmas, along with a clear glass version that I did use at the wedding.
I used it to hold a glass jar of ornaments, a handpainted tote and votive holders during Christmas. Right now I have one of our wedding pictures in a bright green frame there with one of my milk glass rose bud vases. I plan on doing up something
really
cute with it for Valentine's Day, too.
So don't just think of dessert stands as just for dessert. Perhaps in a previous life, my stand was actually used to hold a cake but so far in my home, it hasn't held anything edible. Think outside the box and how you could use one to decorate in your house. On my FIVE FOR FRIDAY today, here is a variety of dessert stands to fit about any decor.
HIGH TEA FOR ALICE
Zowwy, well, let's just start off with a bang! Three tiers of yummy goodness (and the treats aren't even piled on there yet!). Totally unique and handcrafted, each one of these stands are like pieces of art.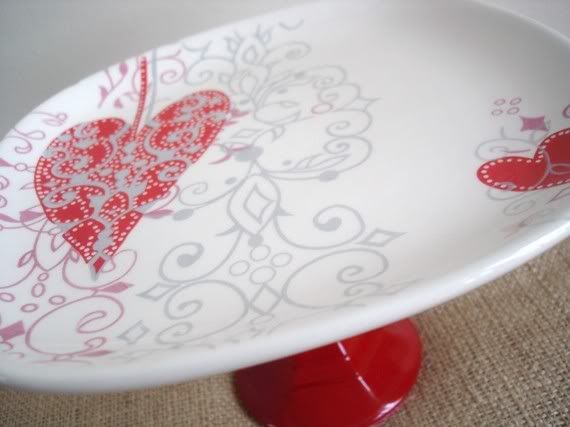 BURLAP AND BLUE
I would have a difficult time finding my favorite piece in this collection of upcycled stands. Created with a combination of patterned plate and candlestick, they are simple and chic and there is a style here to fit just about every taste. You
know
you could find a use for this adorable Valentine's version, right?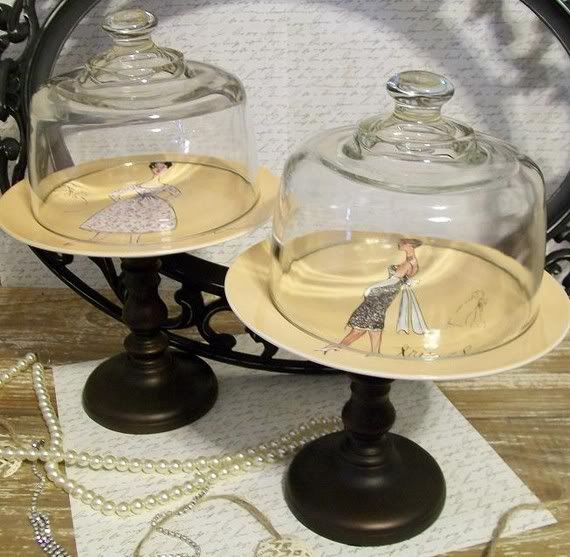 SHABBY MCFABBY
Super chic French ladies, ooh la-la! These come with glass domes so these would be perfect for an outdoor luncheon to hold teacakes and little sandwiches.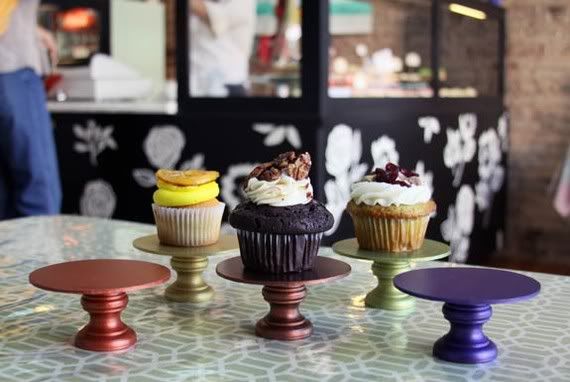 AFFAIRAPHERNALIA
A set of four wooden cupcake stands in your choice of color, including these sophisticated metallics. Or course you could use them as shown to hold a cupcake but think out of the box and picture them with a sparkling votive candle as a centerpiece.
SUNDAY HATCH
I just love this rustic, wooden cake stand. I think that more than any other dessert stand, this piece would be just as well at home on a mantel or shelf holding a bouquet of wild flowers.