This was me last night.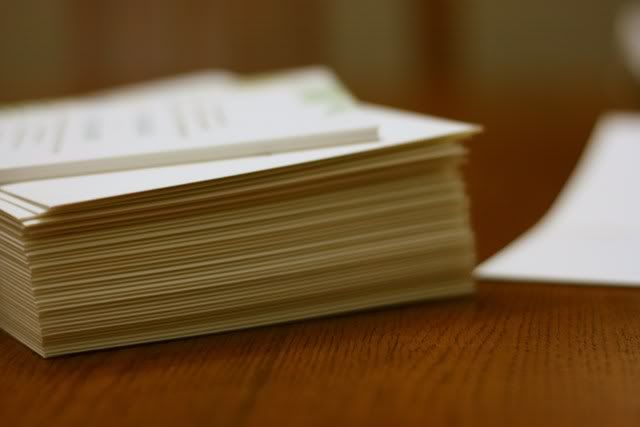 Stack of addressed invitations, ready to be mailed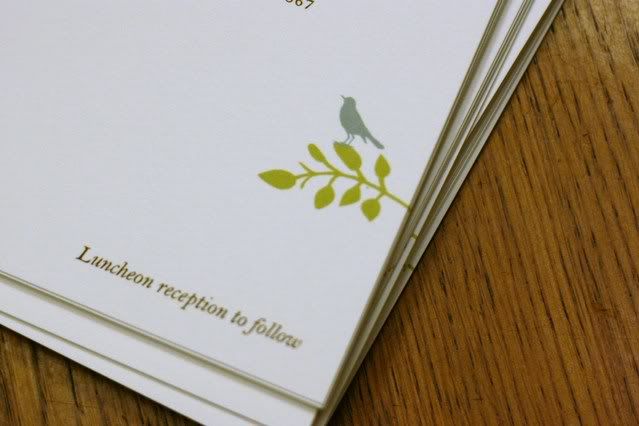 A few hours of addressing envelopes with breaks in between to rest my tired hand. I just have to smile when I see the invitation, with the happy vines and sophisticated floral design. From the design to the colors to the little bird on the branch at the bottom, it really is
me
.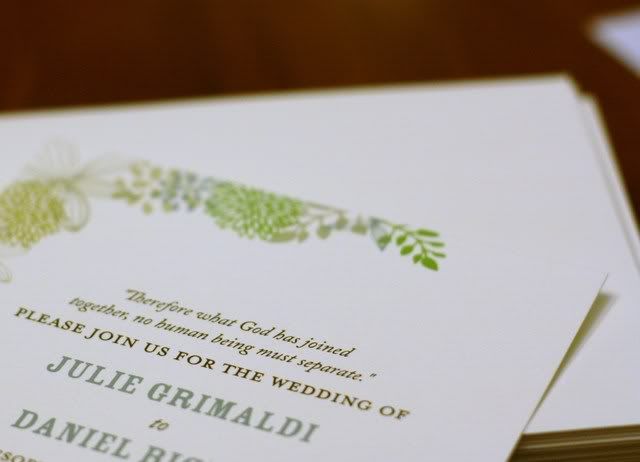 Today was a whirlwind from start to finish and when I think of all the things that still need to be done from now through the next two weeks...my head is a wild mix of emotions and to-do lists.
We started off the morning with soccer. Sigh...It was a relaxing start to the day (cheering, yelling and chatting with other moms). Stopped off at the post office to buy stamps. Sweet little linked wedding ring stamps, perfect for wedding invites. I stuck them on the invitations (thank goodness for peel and stick!) and The Boy slid them into the slot one by one.
Rushed back to the house to change The Boy out of his uniform & scooped up The Girl and my fiance (Neighbor Boy). My cousin lives just up the street and she'd volunteered to help us out today so we could get some things done without the kids. She took them out to play carnival games, eat lunch, play at the park and eat ice creams...hurray! With the kids taken care of, we had a chance to get a few wedding things taken care of.
Our cake tasting appointment was scheduled for 1pm. The bakery is a small little place tucked into an aging shopping center. The kind of area you would never expect a lovely little bakery to be since it shares the block with a discount store, a liquor shop, a karate studio and a Mexican restaurant. The shop owner was wonderful, very detailed and artistic. She looked at our invitation and I told her that I would like the colors and flowers incorporated into the design. She sketched an image that will eventually be our cake, it was so exciting to see my vision come alive. It will be so incredible to see it on our wedding date, live and in color, with the reception room spotlights shining on it!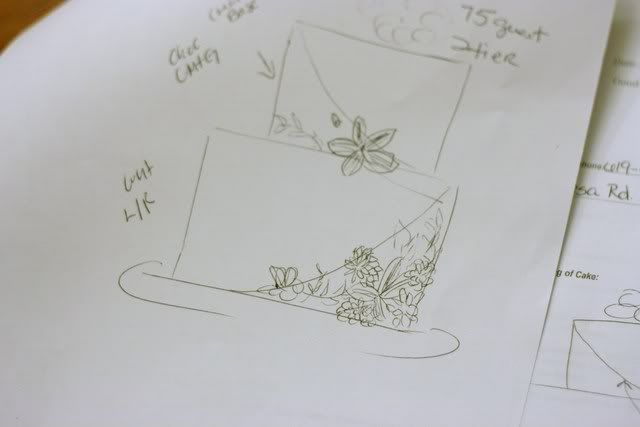 Quick sketch of the cake design
And the cake itself...OH MY GOODNESS, it was so delicious! She brought out four slices and NB and I polished them all off. We decided on a top layer of chocolate with a chocolate cream and ganache layer inside and a bottom layer of white cake with lemon curd and fresh pureed raspberry sauce. The entire cake will be covered with a light whipped cream. Wow, the cake is so heavenly, creamy and moist. I know that our guests will enjoy the choices (boy,
we
sure did!).
After the cake tasting, we drove out to our local outlet center to have lunch and look for a suit for NB. Unfortunately the only shop that had suits wasn't there anymore but there was a jewelry store
*bling!*
The jeweler was so knowledgable, very low key and no-pressure. We were able to purchase both of our wedding bands there and even though it's an outlet, they still have everything certified and guaranteed for replacement if the diamonds are lost. My ring is still there as it needed to be sent out for resizing so there is just another thing to add to the to-do list next week...pick up rings.
But that was two more things off the list. On to suit shopping tomorrow!