Just because my office desk looks like this, it doesn't really mean I'm disorganized.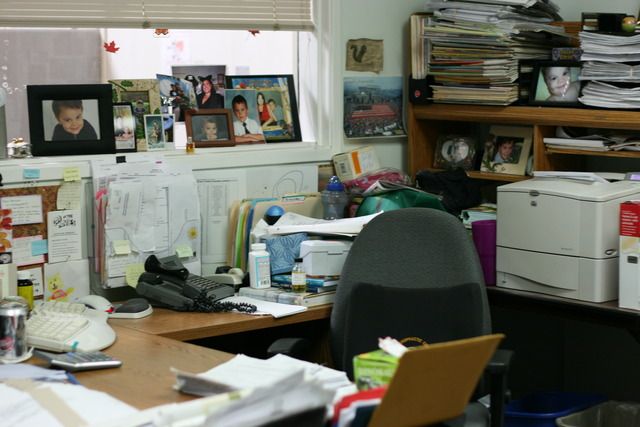 Really, you'll have to trust me on this one, I guess!
Still, even though I am a pretty organized person (on the inside), twenty days to plan a wedding is VERY short notice, even for Ms. List Maker!
Here is what we have completed and finalized so far...
1. The venue.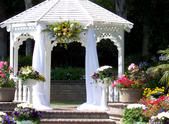 The ceremony will take place in this lovely garden gazebo and the reception in one of their rooms that overlook the golf course. The reception manager here is
fantastic
, she has been so helpful and great at answering all of our questions. And just about everything is included... from the service, to the linens, beverages, appetizers and lunch, cake cutting, etc. I'd priced some rental halls and with the cost of renting chairs, tables, linens, the food and drinks, it was going to be so much more expensive. And this way, I'm glad that my family won't have to do any cleaning up!
2. The invitations.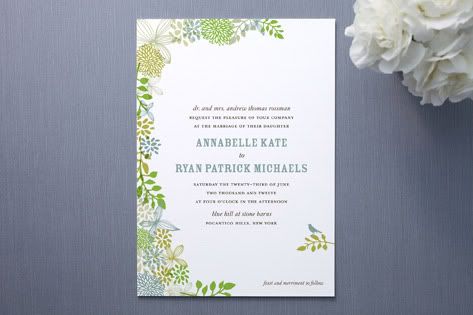 These colors are just so relaxing and lovely to me, I want to have the cake done up in these colors too. The invites have been ordered and will be to me shortly. All I'll need to do is buy a nice new Sharpie fine line and start addressing & stamping them!
3. The ceremony officiant.
The pastor of the church we attend will be in Israel during the time of our wedding, so we asked the man who was our pre-marriage counselor to officiate. He will be fabulous, he knows us, we are comfortable with him and I'm so glad that he's able to do this for us.
4. Other details.
I purchased some vintage cake stands that we'll use in centerpieces to hold small vases of flowers or tealights. I think I have settled on green hydrangeas and white roses. Need to finalize favors...I'm leaning towards
chocolate
! My cousin (and Matron of Honor) has generously offered to host a bridal shower so I started an online registry. A friend offered a suit for The Boy to wear but I need to find a dress for The Girl. My fiance has his own checklist (suit, wedding band, book hotel for honeymoon night).
Still to be done, my wedding dress and a cake. Will be going out this week to find a dress (hopefully there is something that will fit me like a glove and won't have to be altered!) and I've already contacted a few places in regards to the wedding cake. In closing, isn't this just so elegant?