Today all the lovely ladies at work threw me a wedding shower. Tostada lunch, Diet Dr Pepper and yummy marble cake! Mmmmm...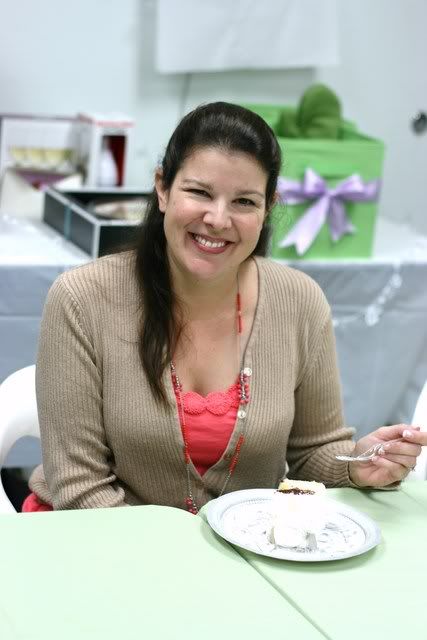 Me with the marble cake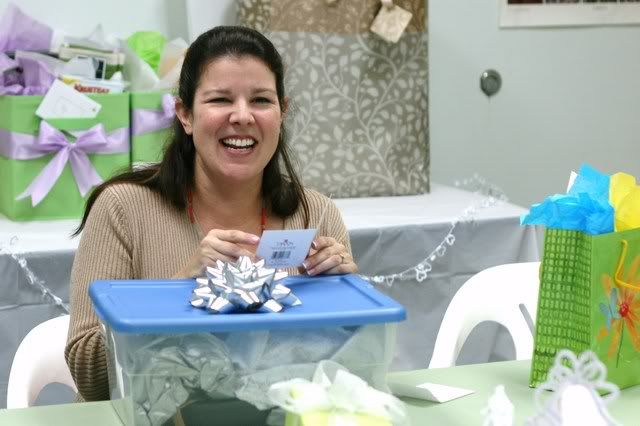 Oh, breakroom lighting, you are quite unflattering!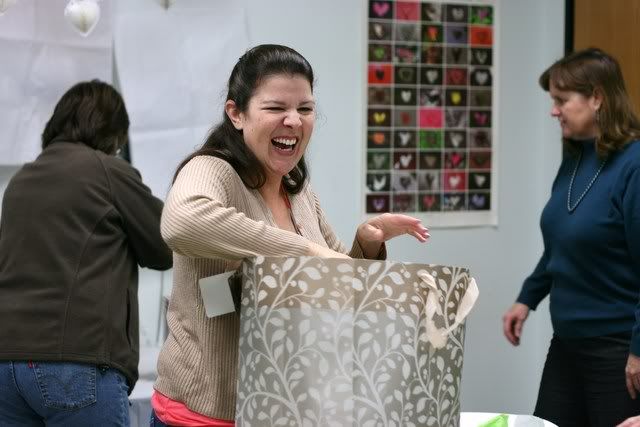 Not sure what was so darned hilarious...Apparantly gift opening makes me appear to laugh hysterically (see this weekend's photos!)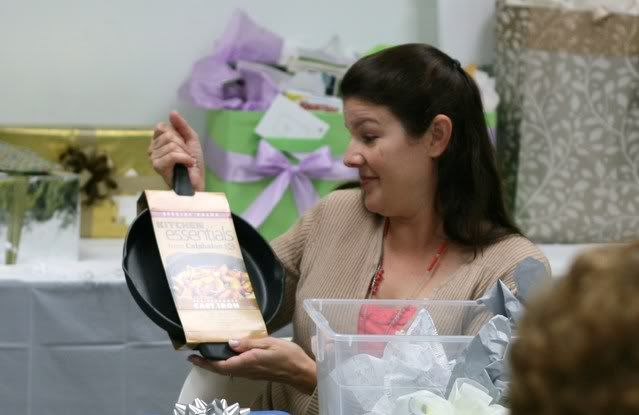 What will I make first in my cast iron skillet? Fried chicken? Corn bread?
Worked late and then met Mom at the bridal shop. Tried on the dress, then realized I have a fresh scratch right across my chest (where did I get that?!). While the tailor resteamed the dress and bagged it up we went next door to the men's dress-up shop. My guy has been thinking about wearing a bow tie so I picked out a silk black one and also a regular silk light blue and light gray tie in case he wants to try those out and see what he likes best.
Mom & I stopped for dinner then on to the craft store to get those green "frog" things to place inside the vases, then came back home. The flowers had arrived this afternoon and my dad had unboxed them and put everything in water. The hydrangeas are so pretty, a nice soft green. And there are Ecuadorian white roses, 50 long stems that are really tight buds now and should be slightly opened by the day of the wedding. We'll be putting all the arrangements together tomorrow night.
Things that WILL and WILL NOT happen in the next two days:
1. I will get over this cold. I've been sneezing and sniffling for 3 days. Starting to feel much better today, a lot less fuzzy-headed, despite the lack of sleep.
2. I will go to bed before midnight tonight. Was up till nearly 1am last night, working and then matching socks (my least favorite chore, why did I decide to that?!) and packing a bit.
3. I don't really want to eat any more junk food for the next two days. I am feeling so bloated and icky from getting home late, not grocery shopping and relying on fast food for lunch because I've been too busy to pack anything. However I'm not going to say I will NOT do this because it's now nearly 11pm and I don't have anything to pack for lunch tomorrow so a fast food lunch is quite likely.
4. I will not try to do everything myself and I will delegate. I really have a very hard time letting go! I had intended to do place settings and had to let this idea go. I was planning on setting up the reception tables myself but realize there is no way I can do that and still get ready so I'll have to delegate that job to my helpful cousins and sister-in-law. I know they'll do a beautiful job without me and I'll be less stressed.
I had also planned on creating music cds for the ceremony and reception but just didn't have time. So I asked my brother if he would do that for me and he said he would. And he does have strict orders that The Chicken Dance, Electric Slide or Macarana NOT be included in the playlist!
5. Lastly, IT WILL NOT RAIN. This has been the weirdest year "weather-wise". For the last two weeks the weather has been picture-perfect. So clear and bright and blue! But of course starting tomorrow, it's expected to bring in 3 storms with rain showers that will begin Friday and last through Saturday, right through the time we are planning our
outdoor
garden ceremony!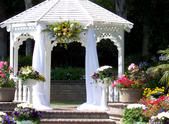 I was planning on getting married HERE, not in a reception room!
Truly though, what can
I
do? Nothing, except create a Plan B. I've contacted the venue and they have assured me that they do have a Plan B in place should it be raining during the ceremony. If it's raining and we can't do the ceremony outside, they will set up the chairs in an alternate reception room so that will be okay. It's not a
garden
, but it will be okay.