LOTS done yesterday and so much fun to be had today, I'm so excited!!
1. The Cake.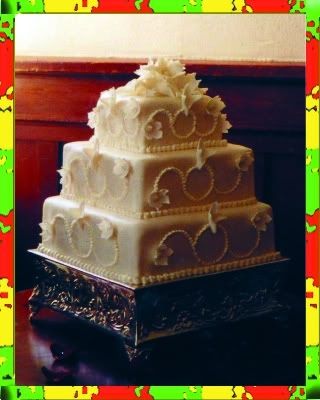 One of their previous designs
I found a bakery and booked a tasting for Saturday. The woman working there is also the owner with her husband and she was so accomodating and friendly. She said that a two-tier will be
plenty
for our wedding but I might supplement anyway with some cupcakes or a sheet cake just in case everyone goes cake-crazy.
More of their designs, though I'll be going for something more on the simple side.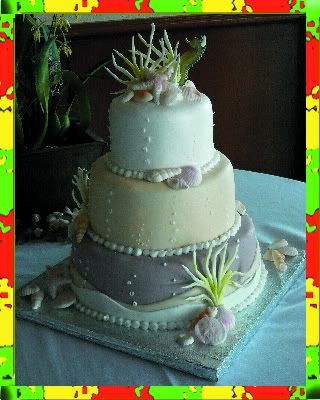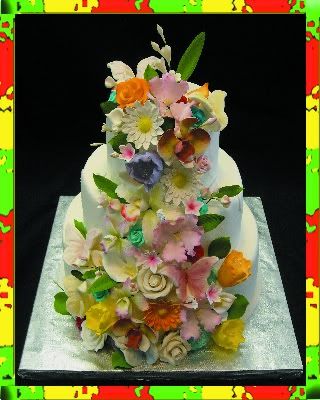 2. The Invitations.
I'd noted yesterday that I wasn't expecting to get the invites in the mail until the 8th, but that my mom had told me to put RSVP by Nov 11th on them! Oops...
I received a FedEx confirmation from the company and they will be arriving this Friday the 5th instead! Hurray!! This will give me Friday night and Saturday morning to totally address them all and mail them out and hopefully everyone will have their invite received by the 10th at the latest. Most of the guests are local, so they'll probably actually have them by that Monday...fingers crossed!
Check out
Minted
to see where I purchased the invitations. After I signed up for their email newsletter they sent me a code for $20 off my first purchase (which I used to pay for the expedited shipping) and they were also having a 15% off sale. They carry photo cards for the holidays too, some really cute designs.
3. The Dress.
Still not sure if my mom is going to feel up to coming but my aunt (and godmother) is going with me to the bridal shop tonight. My future mother-in-law and sister-in-law will be meeting us there too. I am so excited to try on the dresses! To do before I go tonight: 1. See if the shoes that my mom wore for her wedding will fit me. They are totally retro-looking but if they are cute and comfortable, I think they'll be fantastic, just have to see if they fit. 2. Make sure I'm wearing Spanx and a strapless bra
*wink*
4. Guest favors.
I've finally decided on sweet, simple and pretty. As much as I'd love to have heavenly chocolate truffles from our favorite bakery, I'm sure that they are already out of my budget...let alone adding packaging so that people could take it home to eat instead of scarfing it down in between lunch and cake!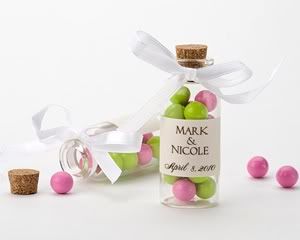 These are going to be so fun (and easy) to put together!
Since I'm going with white linen tablecloths (not sure on the napkin colors yet), soft green hydrangeas and vintage white vases, I think these favors will add a small pop of color to the tables with the colorful candy inside (I'll be doing light blue, teal, lime green and silver). And they have a bit of a unique, vintage feel too, don't you think? There is a slot in the top of each cork for a placecard so it covers two things in one!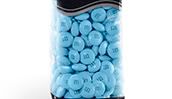 M&M needs to start selling the peanut ones in these pretty colors too!